In today's competitive technological landscape, adopting an effective strategy can make the difference between being a leading contender in your industry or being surpassed by competitors. More than ever, those that can adopt the right strategy in their business ecosystem can have the indefinite advantage.
To do so, a business needs to conduct an in-depth analysis of its internal and external environments. Internally, having a thorough understanding of their existing organizational resources, human, financial capital, and identifying their unique value proposition. Externally, scanning outside forces to foresee what factors out of their control might look like, including competitive, legal, economic, technological, social, and global environments. When a business best understands their internal and external landscapes, it put itself in an optimal position to win.
But first, let's look at a couple of prominent strategies and approaches that start-ups and organizations have implemented over recent decades. Outlined below are key terms to better understand the discussion to follow, as explained by Kim, W. C. in "How Strategy Shapes the Future" and "Blue Ocean Strategy":
Structuralist approach: "Company's strategic options are bounded by the environment, where structure shapes strategy and causality flow from external conditions down to corporate decisions that seek to exploit those conditions."
Reconstructionist approach: "Ideas and actions of individual players can shape the economic and industrial landscape, where strategy can shape structure."
Blue ocean strategy: "All the industries not in existence today – the unknown market space, untainted by competition. In blue oceans, demand is created rather than fought over. There is ample opportunity for growth that is both profitable and rapid."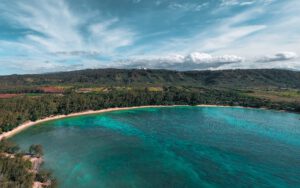 Traditionally, the old-fashioned structuralist approach relied on looking at the current competitive environment inside an already existing market space. Its goal was to beat the competition, exploit existing demand, and pursue a strategic choice of low cost or differentiation. Also known as the Red Ocean Strategy, it's naturally oriented for a market that has a high level of certainty.
However, in today's exponential changing business environment, the current state is a high level of uncertainty – new technological developments are arising faster than ever, and its velocity is exponential. Here, the Blue Ocean Strategy as a reconstructionist approach instead can help businesses excel.
Here's why – I believe competing with other businesses in a saturated market will only lead to marginal improvements in growth, revenue, and customer base. The market space often becomes crowded, resulting in profits being reduced, and products becoming commodities over time. Generally, this framework is about making minor improvements and refining existing processes, rather than innovating new ones. This may be sufficient for certain businesses and industries, however for those that want to capture a significant market share, the Blue Ocean Strategy is needed.
When a business enters a blue ocean uncontested market space, competition becomes irrelevant, the new demand is created, and the goal of the business becomes the pursuit of differentiation and low cost. The opportunity for growth is enormous because the business that travels into unknown space is the one that sets the rules and provides a product/service for a new market that hasn't been served before.
Here are some prominent examples of businesses that pursued the reconstructionist approach and blue ocean strategy with success:
Facebook – created an entirely new social media network where its users could share their thoughts, stories, and pictures with their friends in a personalized way.
Netflix – made on-demand movies available online, while creating their own original shows and films for millions of people around the world.
Moon Active – designed a new innovative mobile game by using coins to build assets in-game, becoming one of the fastest-growing mobile games with 100+ million downloads.
Zynga – a social casino company that brought free-to-play gaming to the United States and used Facebook as their primary channel to acquire customers (where there was no competition), creating an over $10 billion company valuation.
For any modern-day C-level executive, middle manager, or junior employee working in the IT space within North America and Europe, adopting the blue ocean strategy might seem like a riskier alternative. However, from my 10 years of experience in crafting and implementing strategic solutions, not pursuing the blue ocean strategy can lead to greater competition, lower ROI, and less growth. From what I have witnessed of those pursuing the blue ocean strategy with commitment and persistence, they haven't looked back.
For society as a whole, it pushes the boundaries with new forms of innovation that make the way we operate in this world more efficient, effective, and enjoyable.